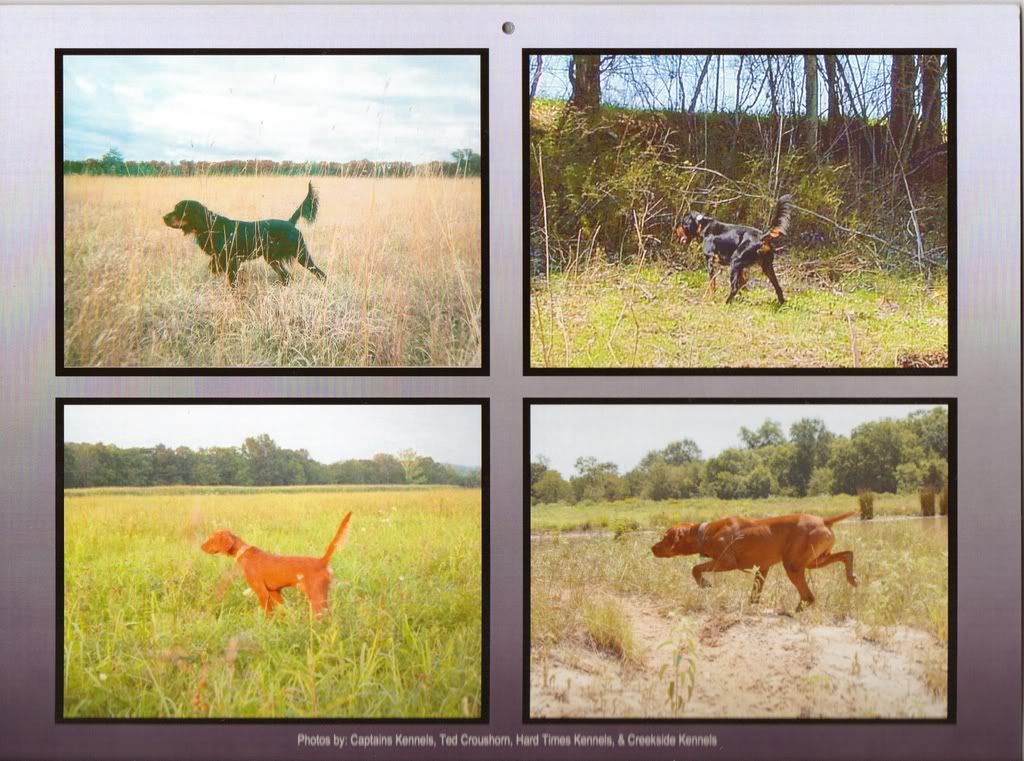 This one made the Tri-Cities Quail Forever 2009 Bird Dog Calendar, and he's on the page for November, in the top right corner, with a covey of quail pinned dead to rights..
It's Whitelail's Smokey Blu, an exceedingly fine Field Gordon owned by one of our own members, Ted Croushorn of Kentucky, also known around the internet as Grousehunter12...
Affectionately known as
Blu
to Ted, they are constant companions, as Blu always rides shotgun on the front seat of Ted's truck.
Blu was bred by Whitelail Kennels, also in Kentucky, and a finer specimen of the field side of the breed is hard to come by! Ted reports that Blu is a natural on birds, and needed little training, and by the pictures I've seen of Blu, I certainly can believe it!
Blu is also a one man dog, as many Field Gordons seem to be. Also one of the traits that make the Gordon less than popular as kennel dogs, as we've discussed in the past..
I hope, with Ted's permission, to feature more posts about Blu in the future. He's very photogenic, and one of the best looking small Gordons I've seen...
So congratulations to Ted, and Whitelail's Smokey Blu, for some well deserved recognition..
And don't forget to click on the pic to enlarge.. And BTW, this is an honest to goodness hunting picture, not set up or stroked up in any way... Enjoy!