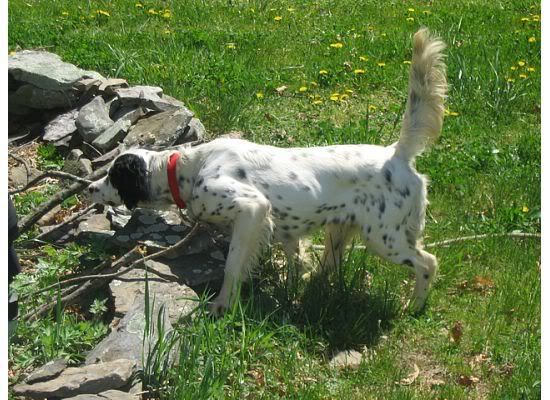 Here's a picture of a Stone Tavern Matrix pup called Kate. She's a great little Setter with an exemplary nose. Here, she's pointing old scent from a spring trap that was picked up close to an hour previous.
So, this leads us to a question... Do all pups have the same scenting powers, or do some just process the information taken in by the nostrils better?
From my experience, I'd say it's decidedly both! There are dogs with exceptional noses! Of this, there is no doubt in my mind.
But, I also believe that
some
dogs are more disciplined, and just use their scenting powers more efficiently. These dogs possess a greater desire to
encounter
game. More desire to be a part of the
team
and work with their handler. More of the predatory instinct...
So, it follows then that some dogs have inferior noses??
Yes, I think so, and all the other attributes we like to see in a quality gundog also.
I believe that scent is like vision.. As Bud Decot of shooting fame once said.."We
look
with our eyes, but we
see
with our mind."
I've come to believe that dogs and humans are more alike than not, and the senses and the brain are irrevocably tied together..
I'd love to hear other thoughts on this issue..